Well we're halfway through the season, and the only team that looks remotely dominant in any way is the Denver Broncos, which means they'll probably lose today. Many teams have shown combinations of brilliance and buffoonery this season, and coupled with the normal slate of injuries (and the
unusual
ones
!), most teams are still capable of reaching the playoffs. I guess we'll have to watch and see!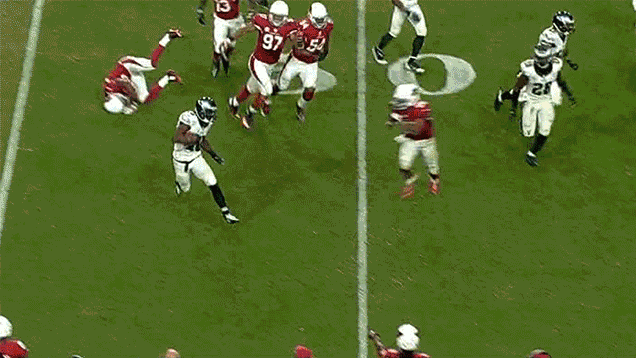 TNF: At 4-4, the NO Aints now sit atop the steaming pile that is the NFC South with their victory over the
Black Panthers
. Hey, at least my Dirty Birds are only two games out!
Sun 1pm EST (Cavanaugh's Rittenhouse, Center City, Philly): With the conclusion of Daylight Saving Time, we get to endure another hour of wondering whether or not Tony Romo will start against the Zony Cards. After last week's
back-breaking injury
, in which Cowboys owner/GM/team doctor the Double J
personally put Romo back into the game
for their decisive last-minute loss, keep posted on more ludicrous antics in Jerryland. Philadelphia will attempt to fly, Iggles, fly against a stout Texas Houstons defense led by
JJ Watt and/or Jesus Christ
. Although being
haunted by dog ghosts
would have made for good Halloween weekend fun as Vick is the starting QB this week, the NY
Just-Endure-The-Suffering
look to lose instead through the classic combination of incompetence and hilarity, even with Percy Harvin fighting
tooth and nail
every huddle, as they are entertained by the KC Reidskins. The Vikings look to hobble the DC Fightin' Snyders by
ordering pizza
to the sideline. Fresh off their victory in the Sadness Bowl, the Browns host Tampa Bay in the featured meeting of the elite rivals:
Glennon-Hoyer Bowl I
is upon us!
Sun 4pm-ish: Bill Belichick now knows how to
dress for success
as picking the appropriate hoodie for today's matchup is key to defeating the Superbowl-losing Broncos.
SNF: Tonight's game is brought to you by pain, hatred, and
horrible fan art
, as a resurgent Yinzburg Stillers host my beloved Ravens for control of the sometimes competent AFC North.
MNF: After getting blown out last week, Indy will like visit the same fate upon the NYF Giants.