Many questions regarding which of your teams would be going to the playoffs were resolved last week. Except of course mine, whose Week 17 features both the Falcons and Ravens vying for the final two playoff spots. So in the mean time, congratulations to the Pats/Broncos/Colts/Stillers/Bagels in the AFC and Boys/Lions/Packers/Cards/Seahawks in the NFC.
Aside from the battle for the remaining two wildcard spots, a few games will determine division champions and therefore seeding, which are probably just a big deal for fans/rivals of these teams. But one exciting end-of-the-season event for the casual fan is the much-vaunted coach firings!
My bets:
Jim Harbaugh, Rex Ryan (has already
cleared out his office
), Marc Trestman, Ken Whisenhunt, Gus Bradley, and
Analytical Ron
. Hit me with yours!
The Beastquake strikes Arizona!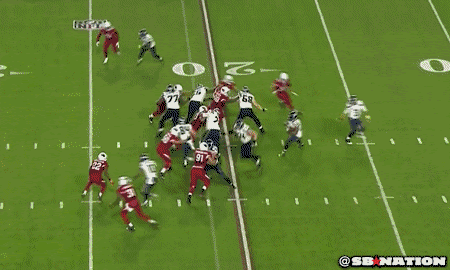 Sun 1pm
: There are still four AFC teams competing for the final wildcard spot. The San Diego Superchargers take it with a win over the KC Reidskins, who can also take it with a win concurrent with losses by both the Ravens and Houstons. KC might have a better chance if they would throw
touchdown passes to their wide receivers
. The Cleveland Browns will be
driving under the influence
against my beloved Ravens, who also need to pull out a W (coupled with a Chargers loss). But given the Ravens
recent horribleness
against
backup, backup QBs
, that feat is far from sure. I'm very sad that
Sexy Rexy
had
Christmas plans
. A more certain victory is the Texas Houstons' imminent defeat of the future London Jags, but they'll still need losses by the Ravens and Chargers to reach the postseason.
4:25 on the dot
(PJ Leahy's, LIC): While God clearly
hates the NFC South
, Panther's QB Cam Newton should get his Christmas wish of
his favorite team
reaching the playoffs with a win. Devon Hester is already
loosening up the officials
for a Dirty Birds victory. The Lions defense hopes
to stomp
on Aaron Rodgers and his Packers, as these teams compete for the NFC North title. And the Seahawks will finish as division champions assuming they can dispatch the future (and past!) LA Rams.
SNF: While it is a primetime game, the matchup between the Bagels and Stillers only matters for seeding, so look for your team to receive an effective playoff BYE week against the Bagels.